Rotary Club of Brisbane Planetarium in partnership with The Salvation Army launches Project NOW
July 1, 2013 Update – we reached for the Stars & made it!
Planetarium reaches for the stars
How 50 members raised $0.75 million in 3 years
How does a club of 50 members, that usually raises $40,000 a year, raise $750,000 in just 3 years? It all comes down to self-belief and the passion to make this a reality.
Back in 2010 our Rotary Club, Brisbane Planetarium, was having one of its regular breakfasts at the Salvation Army's Moonyah Recovery Service Headquarters. The managers, husband and wife team Major Chris and Major Graham Tamsett, are members of our Club. At that time Moonyah catered for 75 men in long-term residential care as they undertook a course of recovery from drug, alcohol or gambling addiction.
During the morning Major Chris laid out her vision to member Paul Tapper of one day providing a centre for women, whose need was just as great. (At that stage there were only 22 beds for women and over 200 for men in SE Queensland.) Out of their conversation began Project NOW – Nurturing our Women (http://rotaryprojectnow.org) – a challenge taken up by Brisbane Planetarium to raise funds for a 20-bed residence for women at Moonyah. Consecutive club Presidents agreed to the 3 year project with PP Michelle Davis taking the role of Chair of Project Now and PP Leslie Smith handling the finances.
A recovery program for women commenced at Moonyah about this time, taking up some of the men's accommodation. At regular breakfasts over the next 3 years we got to know many of these women as they shared the painful stories of their lives. They became our guiding beacon as we strove to raise the funds to give them a chance at a better life, to break the cycle of addiction and regain a life of dignity and respect.
Our main fund-raising activity was an annual breakfast, where we highlighted the need for this residence. The first year 450 people attended, the second 1,000 rolled up, and from these events we raised $250,000. As well, thanks to 9600 District Governor 2011/12 Carolyn Krueger we featured Project NOW at District conference, bringing other Rotary Clubs on board. The balance of the fundraising came from personal, community and corporate donations. Our efforts caught the attention of Zonta, who threw their support behind ours, and of course the Salvation Army itself gave tremendous encouragement.
We reached our goal this year, and on June 14 the Premier of Queensland Campbell Newman turned the first sod for the building construction. A day of great excitement as we realised our quest had succeeded and would change women's lives for decades to come.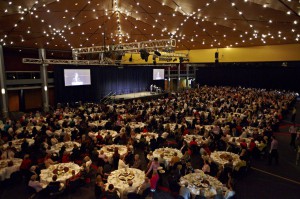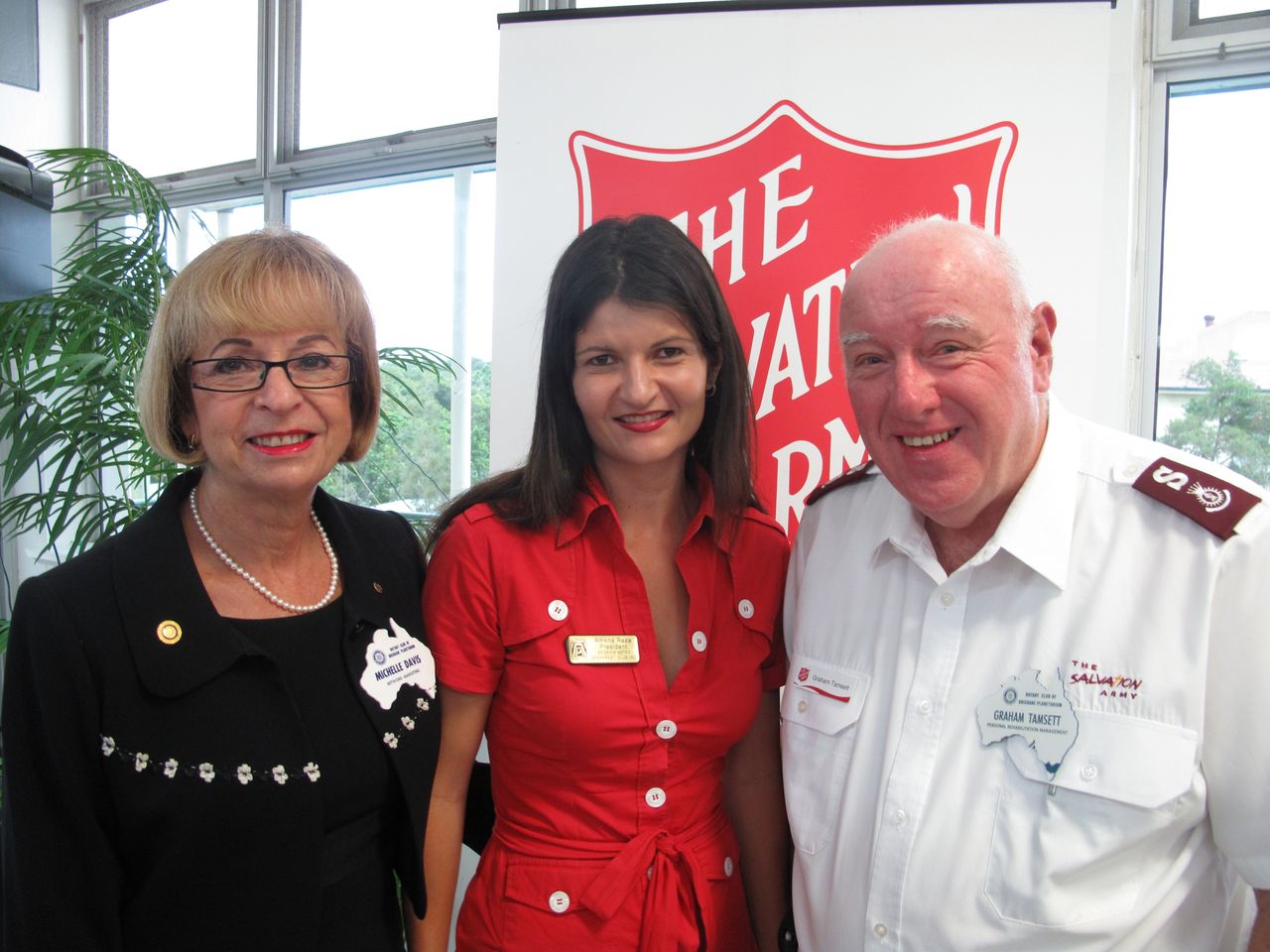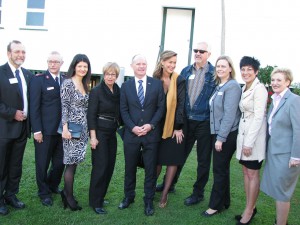 Project NOW Breakfast with 1000 attendees
Teamwork – Rotary, Zonta and the Salvation Army co-operated in the fundraising effort
Premier Campbell Newman with key supporters at the sod turning ceremony
THANK YOU TO EVERYONE WHO HELPED
An UPDATE February 2013….
Having raised sufficient funds to allow construction to commence, the final meeting has been held with teh Architect and detail design is proceeding to allow quotes to be obtained. Very exciting and well done all who contributed.
An invitation…
We invite you to partner with the Rotary Club of Brisbane Planetarium, so together we can fulfil the dream of building a residence to accommodate women determined to beat their addictions and rebuild their lives. Establishing the building overcomes the last hurdle to a full program for women at the Salvation Army Recovery Centre at Red Hill.
The name of the project symbolizes the very urgent need that exists in our community to provide a residential home to permit women to regain their lives with dignity, whilst undertaking a long term residential program. The light in the window symbolizes hope.
A first for Brisbane
For many years The Moonyah Centre at Red Hill in Brisbane has helped men to rebuild their lives through its residential alcohol and drug recovery program. The program has a high success rate. However, very little help has been there for women and their need is just as great.
Now members of the Rotary Club of Brisbane Planetarium are responding to that need. They have a vision of building Moonyah Women's a 'home away from home' for women while they complete the program, The new residence will enable the program to reach out to 20 women on an ongoing basis. Currently there are 12 women on the program with 8 accommodated in the men's quarters and 4 in a small timber house.
Can you give us a hand?
The Rotary Club of Brisbane Planetarium has made this its major project until completion.
It is estimated that the proposed building will cost $750,000. The project commenced with a pledge of $250,000 – in large part through a generous personal gift. We have plans to raise the balance and we know that we will only succeed with your help.
The land has been generously donated by the Salvation Army.
We are seeking partners in the business community, service organisations, committed individuals and Government Organizations
We invite you to catch the vision and together we will reach our goal and make it a reality!

A lofty vision – a dream fulfilled – lives restored
Plans are complete for the 'Moonyah Women's' residence at 58 Glenrosa Rd, Red Hill, which will replace an existing wooden building that currently houses just four women. The new building with accommodation for 20 women will become the property of the Salvation Army, who will manage it as part of their ongoing responsibility for the whole complex.
This proposed facility will comprise 20 rooms and will be built over three levels. The top two levels will be provide the accommodation and bathroom facilities. The lower level will provide unisex amenities comprising a laundry, an outdoor room and a meeting room. This level will be accessible by wheelchairs. Open secure stair wells to either end of the central corridor allow natural ventilation to all rooms. The proposed building is designed to blend with the existing brick construction of the Salvation Army Hostel in Red Hill.
THE SALVATION ARMY
Bridge Program – A Bridge to New Life
The Bridge Program – a Bridge to New Life designed to help those recovering from drug, alcohol and gambling addictions. The Salvation Army has run this program throughout Australia for many years and it has a very high success rate.
The Brisbane Centre is at Moonyah 58 Glenrosa Rd, Red Hill
This long-term residential program aims to:
provide a safe and drug-free environment to help establish a healthier lifestyle;
focus on the problems that underlie addiction;
provide a holistic treatment service that will help achieve physical, mental, emotional, social and spiritual wellbeing via medical treatment, one-to-one and group support and pastoral support.
The program imparts living skills that help the participants overcome addiction while setting the foundation for a more meaningful and fulfilling life. The Program, based around the Twelve Step principles used by organizations such as Alcoholics Anonymous, lasts around 32 weeks.
Participants each have a personal Case Worker who they meet with at least once each week. They are also assigned to a workstation that they attend for five days each week – it may be gardening, kitchen work, maintenance, cleaning and education such as literacy skills.
People are accepted for the program after a personal interview. They then move into our residential accommodation, a hostel that houses up to 80 men in either twin-share or single units. It has a small timber building which currently houses 4 women while another 8 are housed in the men's quarter
The hostel has an industrial-style kitchen, communal dining and laundry facilities, group rooms and private counseling rooms. There are regular recreational activities, including a library, and a Chapel for weekly services.
Click here for more information
Moonyah Centre (07) 3369 0355
For those interested in supporting the project, a visit to the Centre can be arranged.